Conference Highlights
SCIEX launches the Citrine™ Triple Quad™ MS/MS Systems in Europe, bringing maximal speed and sensitivity to clinical diagnostics testing
Analytica 2018 – Four successful days with 35,800 visitors and 1,164 exhibitors from 49 countries in Munich, Germany
SCIEX along with Leica Microsystems, Molecular Devices and PALL, presented a full portfolio of solutions for the Danaher Life Science platform at Analytica.
On Tuesday, April 10 – SCIEX launched the Citrine™ Triple Quad™ MS/MS and Citrine™ QTRAP® MS/MS systems for clinical diagnostics. The SCIEX Citrine™ MS/MS medical device provides clinical labs with one solution to tackle today's difficult assays, and the versatility to address tomorrow's precision medicine and wellness testing. For more information, visit: https://sciex.com/diagnostics

Seminars were subdivided into four different sessions:
Food & Environmental
Clinical & Forensic
BioPharma
Omics
SCIEX invited nine external speakers including Prof. Jens Brockmeyer, University Stuttgart, Stuttgart, Germany, to speak about "Food authentication using mass spectrometry-based proteomics: current status and future potential", Dr. Michael Poetzsch, Switzerland, to discuss "Forensic Drug Testing using SWATH® Acquisition – how it works", Dr. Achim Freisleben, NUVISAN GmbH, Grafing, Germany, to speak about "Development, validation and application of a novel LC-MS/MS assay with both stable and inter-converting metabolites", and Mark Haid, HelmholtzZentrum, Munich, Germany, to speak about The Lipidyzer™ Platform in biomedical research.
At the SCIEX booth, visitors learned more about the M5 MicroLC, OptiFlow™ Turbo V Ion Source, the X-Series QTOF System, the Citrine™ LC-MS/MS, the C100HT and Software & Service.
Analytica 2018 – International Trade Fair for Laboratory Technology, Analysis, Biotechnology and Analytica Conference
Analytica is the world's leading marketplace for products and services along the entire value chain for modern laboratory processes. It is where the industry's key players and decision-makers meet.
The conference brings together entire range of topics that pertain to laboratories in research and industry. Renowned experts report on the current status of international innovations.
---
SCIEX at ASMS – Learn how SCIEX is helping our customers advance science in translational research, biologics characterization, cannabis testing, food, environmental, and forensic screening, and clinical research.
On Sunday, June 3, 2018, the American Society for Mass Spectrometry (ASMS) kicked off their 66th annual ASMS Conference on Mass Spectrometry and Allied Topics, in San Diego, California, U.S.
ASMS is the biggest event for the mass spec industry, attended by more than 6,500 scientists from around the world. This year, 130 SCIEX associates were involved in the event.
SCIEX activities included a Users Meeting and a Press Conference. Each day, SCIEX hosted Breakfast Seminars, Demos, Exhibitor Booths and Poster Presentations. Each night, there was a Hospitality Suite which was open and packed with conference goers who we engaged with giveaways and fun interactive experiences.
The SCIEX ASMS press conference took place on Monday, June 4 – Day 2 of ASMS – to a packed audience of 45 editors from mass spec and life science-focused publications, as well as a few analysts and potential investors.
Speaker lineups featured President, Inese Lowenstein, Chris Lock, Vice President, LCMS R&D, and Dominic Gostick, Vice President & General Manager, LC/MS Business, as well as Professor Jenny van Eyk from the Cedars-Sinai Medical Center, LA. Together, they described our journey from pioneering the early quantitative LC-MS systems, to the diverse pharma and biopharma portfolio that we've evolved today for researchers developing targeted biotherapeutics. Using examples from Jenny's research, they went on to discuss the personalized therapies our customers are imagining for the future, through the help of SCIEX technologies, to meet the goal of 100 percent survival rates from breast cancer and other diseases.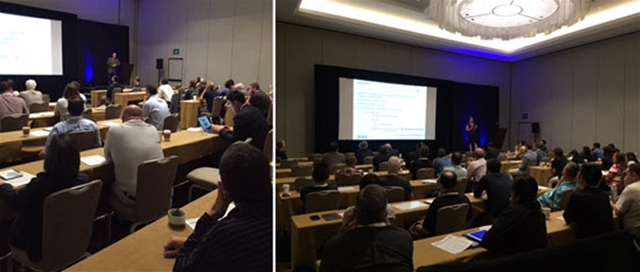 Clinical Research & Forensic Toxicology and Food, Environmental & Cannabis Testing Meetings

Life Science & Omics Research and Pharma & Biopharma Discovery & Development Meetings
Day 2 Breakfast Seminars
Hospitality Suite
Recent additions to the SCIEX biopharma portfolio:
OptiFlow™ Quant Solution, which delivers highly sensitive micro flow quantitation for peptides. This solution includes the OptiFlow Turbo V Source with M5 MicroLC to deliver micro flow sensitivity at analytical flow usability, with flexible and user-friendly sample handling.
Multiple Attribute Methodology (MAM) Workflow for simple yet in-depth LC-MS characterization and development of biologics, supported through the newly released SCIEX BioPharmaView™ 3.0 software. The MAM Workflow provides more complete analysis of the product quality profile while minimizing the burden of product quality attribute (PQA) monitoring and product purity testing.
New OS software:
SCIEX is launching its SCIEX OS 1.4 software at ASMS, bringing the full package for quantitative and qualitative analysis to the majority of SCIEX instruments. The new operating system also offers complete 21 CFR Part 11 compliance for labs in regulated fields.
This launch follows the MPX™ 2.0 software, which was recently developed for multiplexing LC separations within a single MS system, saving valuable laboratory time while improving flexibility.
Earlier this year, SCIEX also announced several other new technologies. These include the Citrine™ MS/MS System for clinical diagnostics, delivering highly sensitive and rapid quantification of large panels of molecules, as well as the OptiFlow Interface and C100HT Biologics Analyzer.Check out the press releases:
SCIEX Announces Latest Innovations for Improving Healthcare and Well-being at ASMS
SCIEX OS 1.4 Launches with Next-Generation Algorithms and Complete Data Processing Compatibility across SCIEX Mass Spectrometry Platforms
---
Customers Talk, We Listen​
SCIEX OS Software: Transforming Your Laboratory Samples into Meaningful Analytical Answers
SCIEX has recently released a major new update of its SCIEX OS Software. Built on direct customer feedback, the new release focuses on user experience, productivity and safety so you can focus on what matters most – running your laboratory at peak performance.
Shortly after launching the X500, we received very positive feedback on SCIEX OS. Back then, the first question from customers was, "Can I use it with all of my SCIEX MS Instruments?" We knew that instrument control would take some time but processing the data from all the instruments was something we could add right away. At the same time, we set about improving the identification of unknowns, extending the quantitative tools and adding the compliance features. We launched SCIEX OS-Q 1.4 and SCIEX OS-MQ 1.4 for processing data from all SCIEX instruments. So far, the interest has been incredible and we are sure customers will not be disappointed.
SCIEX is also starting to release regular updates, so you don't have to wait to benefit from even more new features in the near future! But let's take a deep dive so you can find its benefits for yourself…
Faster, Easier, and More Productive – yet Familiar, Powerful and Secure
Mass spectrometry continues to provide more comprehensive data than we ever imagined possible. With this abundance of data comes additional challenges related to fast interpretation to achieve actionable results. As a lab technician, scientist or lab manager you may find yourself:
Challenged to deliver reproducible and high volumes of accurate quantitative data?
Concerned about high training costs for multiple software platforms across the lab?
Stressed by manual review of data requiring significant time and potentially introducing inconsistencies?
Overwhelmed by maintaining regulatory compliance?
Without a doubt, analytical laboratories need LC-MS software and systems that can process increasing volumes of data faster and across a broader spectrum of instruments.
The solution, SCIEX OS Software.
When it first launched, SCIEX OS was revolutionary in providing combined quantitative and qualitative analysis capabilities in a unified software platform, empowering the X-series QTOF MS Systems. What we heard from you made it possible for us to engineer a superior system with a software solution that meets your needs and then some. The updated version builds on these foundations by providing cutting-edge quantitation algorithms that are capable of making the integration of data more efficient and intuitive to further accelerate workflow analyses. In addition, calibration curves are easier to create than ever before with a new automatic algorithm to detect and remove outlier data points that fall outside user-defined rules.
With this release, SCIEX OS Software 1.4 acts as the central processing application for data produced by our Analyst® and Analyst® TF Software applications. Now, data processing for all Triple Quad™, QTRAP® and TripleTOF® instruments, as well as the X500R and X500B QTOF systems, can be performed in a single software interface.
Today, with SCIEX OS Software, our customers can benefit from three distinct products in one, with different modules that focus on specific tasks, such as acquisition, quantitative or qualitative analysis:
This flexibility makes it accessible for a wide variety of applications and also point-and-click SCIEX OS software makes set-up and running easy and accessible to all skill levels.
New features such us automatic outlier removal, standard addition, grouping peaks by adduct and charge, enhanced results table filtering will further streamline data processing and support the user with smarter, quicker data review.
SCIEX OS supports a new acquisition mode for enhanced confidence in results that allows users to acquire SWATH® and IDA scans in a single injection. This feature helps scientists to perform compound identification in complex matrices, eliminate the fear that you're missing compounds.
Our customers actively requesting 21 CFR Part 11 compliant systems for analysis in regulated environments and keeping data integrity in mind, the software was designed to support 21 CFR Part 11 Compliance, providing tools such as the incorporation of electronic audit trails, electronic signatures, and detailed security configurations.
Licensing enhancements were introduced to save our customers time, money, and hassle. Offering both, node-based licensing for the acquisition workstation and concurrent ("server-based") licensing for processing is a benefit for those customers who want to purchase and use their processing software more flexibly and cost-effectively. The concurrent licensing option is also ideal for large companies with many infrequent software users who want a flexible licensing model that ensures compliance with the licensing agreement.
Improved security and management is backed by state of the art Windows 10 compatibility and Microsoft Office 2016 support.
Learn more about SCIEX OS Software, experience all the benefits in a free 30-day trial or request a demo to get hands-on experience
---
Feature Article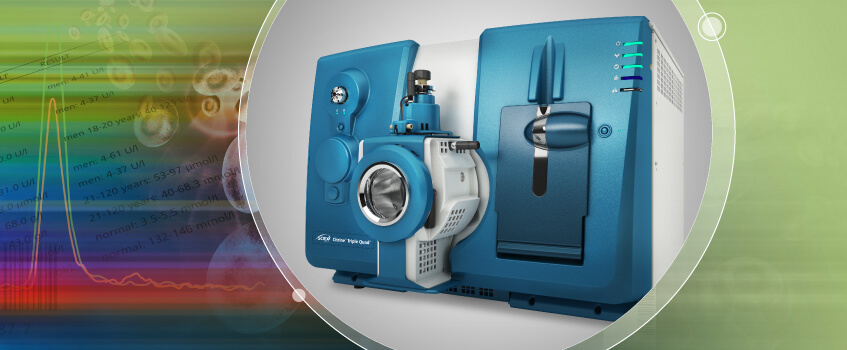 Discover The Power Of Citrine MS/MS – One Solution For Your Every Challenge
The Citrine™ MS/MS system provides clinical laboratories with ultra-fast, ultra-sensitive diagnostic testing
Clinical laboratories are increasingly employing liquid chromatography-tandem mass spectrometry for diagnostic testing, motivated by the increased selectivity and accuracy that LC-MS/MS affords versus traditional analytical techniques. Despite the advantages offered by existing LC-MS/MS technology, feedback from our clinical customers suggested that a more sensitive medical device mass spectrometer was needed, and furthermore that there is a clinical need to concurrently analyze larger numbers of compounds in a single analysis. In response to our customer's feedback, SCIEX recently announced the launch of the Citrine Triple Quad™ MS/MS system and the Citrine QTRAP® MS/MS system ‐ our fastest, most sensitive IVD mass spectrometer.
The Citrine MS/MS system delivers the legendary robustness and reliability of a SCIEX mass spectrometry solution, but also provides clinical laboratories with the necessary performance to address the most challenging clinical applications, said Dr. Aaron Hudson, Vice President and GM of SCIEX Diagnostics. The speed and sensitivity of the system translate into meaningful advantages for our customers, who are always trying to do more with less. Not only can clinical labs expand their capabilities by bringing testing in-house and developing their own lab developed tests (LDT), they can also achieve faster run-times, develop highly multiplexed panels to increase laboratory efficiency, and take advantage of simplified sample preparation to reduce costs and labor.
The Citrine system offers electrospray ionization (ESI) and atmospheric chemical ionization (APCI) options, an extended mass range up to m/z 2000, and a wide linear dynamic range, making this a versatile tool for the measurement of a large variety of polar and non-polar biomarkers and metabolites in biological fluids, over a large range of concentrations.
Our customers are already discovering the benefits of this ultra-high performance medical device. Reliable quantitative measurement of trace level compounds such as steroidal hormones is extremely difficult, said Dr. Rao Maddipatti, Associate Professor and Director, Lipidomics Core Facility, Wayne State University. While traditional immunological methods offer high sensitivity, they rely on the selectivity of the antibody used and are prone to misidentification. Mass spectrometric quantification alleviates such concerns of selectivity. With the ultra-sensitive Citrine MS/MS system, not only can these trace level steroids be measured with confidence, but the analyses can also multiplex over a hundred compounds in a single experiment, allowing clinicians and patients to benefit from a bird's eye view of the metabolome.
---
Survey Results​
IAB Yearly Conferences Attendance
How often do you attend work related conferences?
Top Conferences IAB Members Attend
IAB Early Access
Would you be interested in having early access to SCIEX preview webinars prior to a conference?
Industry Trends
What types of information and resources do you seek to stay on top of industry trends?
---
Do You Know Reporting with SCIEX OS Got Easier?
Choosing the right columns to display and what order they should be in, is a common task for viewing and creating useful reports.
With SCIEX OS, you can choose to report the columns the same way you view!
Choose the columns to display by choosing table display settings:
2. Choose report template: All Peaks Qual.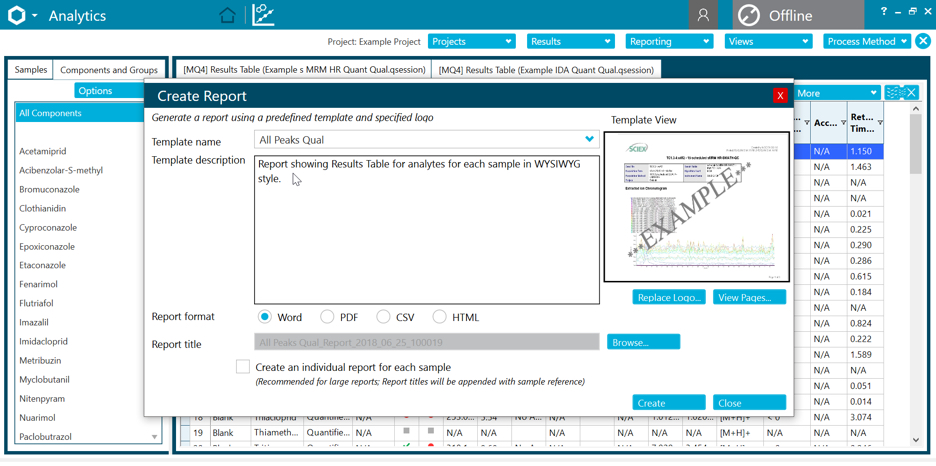 The "All Peaks Qual" report template is based on WYSIWYG: What you see is what you get.