Conference Highlights
The 68th ASMS Conference – 'Rebooted'
Thousands of scientists attended the rebooted edition of the 68th ASMS conference this year to present and discover the latest research in and around the field of mass spectrometry. Given the current COVID-19 pandemic, scientific researchers were still able to attend ASMS 2020, in an accessible 'reboot' form. Viewed all over the world from offices and homes, the on demand presentations, live recordings, short courses and poster presentations were a big success. Highlights from SCIEX during the virtual conference are highlighted below.
SCIEX presented the Echo® MS System at the ASMS Reboot.
The Echo® MS System is an ultra-high sample throughput system that delivers speed, scale and reproducibility with unyielding data quality. The system leverages industry-leading quantitative MS technology from SCIEX to provide a highly sensitive solution featuring:
Speed: Analyze up to 3 samples per second to deliver quantitative results up to 50 times faster than conventional LC-MS.
Scale: Project timelines are transformed from weeks into days, while retaining precise, information-rich answers that enable critical decisions to be made faster.
Reproducibility: Experience unparalleled standards of quantification with consistent and precise reproducibility even in challenging matrices.
SCIEX presents Echo® MS System at ASMS Reboot – Press Release
If you missed any of our live events from the ASMS 2020 virtual scientific series they are available now on-demand. Experience a brand new technology announcement redefining high-throughput mass spectrometry, the role mass spec is playing in COVID-19 research and new analytical techniques for emerging applications.
ASMS 2020 on-demand content is waiting for you!
Access each of the recorded seminars below.
SCIEX presents RUN FAST – Get ready to redefine your definition of high-throughput, quantitative mass spectrometry
The SCIEX Innovation Team
Watch now >
The SCIEX flexible solution for MAM
Zoe Zhang, Application Support Senior Scientist, SCIEX
Watch now >
COVID-19: Highlighting the rapid response of researchers across the globe and the role mass spectrometry is playing
Prof. Markus Ralser, Ph.D., Charité – Universitätsmedizin and Francis Crick Institute
Watch now >
Benjamin Schwarz, Ph.D., Rocky Mountain National Lab, NIH/NIAID
Watch now >
Comprehensive LC-MS solutions for therapeutic oligonucleotides from characterization to quantification
Esme Candish, Biopharma Application Scientist, SCIEX
Watch now >
---
---
---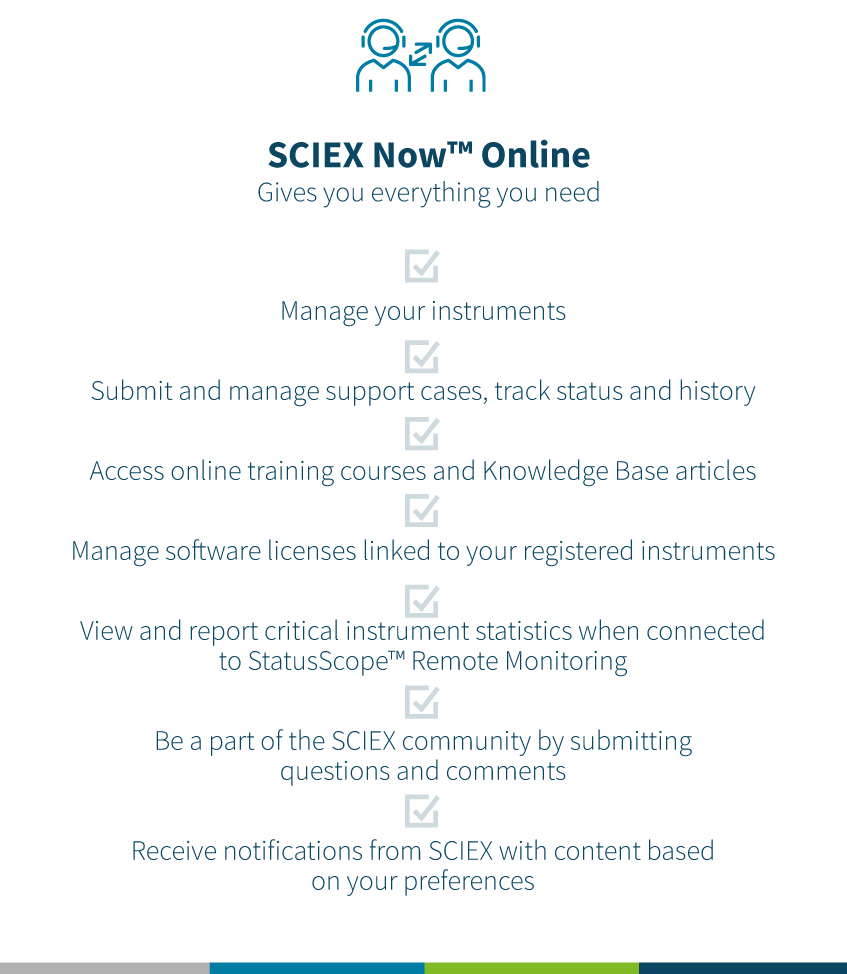 ---
Upgrading to SCIEX OS-MQ Software for processing is easy
Importing processing methods from Analyst® or MultiQuant™ Software to SCIEX OS-MQ Software:
SCIEX OS-MQ Software is the latest innovation from SCIEX in fast, reliable data processing and streamlined review. Combining the powerful features of multiple software platforms into one, it's a single solution for your data processing needs. But you don't have to start from scratch! Full MultiQuant Software processing methods can be imported from components to integration parameters to regression settings, so switching to SCIEX OS-MQ Software is simple. Do you have processing methods in Analyst that have long lists of components already set up and don't want to have to recreate? You can easily import your previously created components from Analyst Software to SCIEX OS Software.
Take your data processing to the next level by taking advantage of the new features such as Automatic Outlier Removal and the Calculated Columns & Flagging Rules. These new features can help reduce processing method development time and data review time, and these helpful videos will show you how to import your methods with ease and confidence.
RUO-MKT-18-10530-A and RUO-MKT-17-10211-A
---
Why Won't LipidView™ Software Load My Analyst® Software (.wiff) Data Files?
In order to load Analyst® software data files (.wiff files) into LipidView™ software, either Analyst or Analyst TF software must be installed alongside LipidView. If the data files were acquired with Analyst software, then Analyst software must be installed with LipidView. If the data was acquired with Analyst TF software, then Analyst TF will need to be installed alongside LipidView software. For example, if the data file was acquired on a TripleQuad system with Analyst software, then the data-processing computer with LipidView software will need to have Analyst, not Analyst TF, software installed.
Requirements for installation of LipidView software (see Release Notes):
.NET framework 4.0 or higher.
Analyst software version 1.6 or higher or Analyst TF software version 1.5 or higher.
Microsoft Word 2003 or higher is needed to support reporting functionality.
Microsoft Access is not essential. However, it is required for customizing information in the lipid database.
---
What is the Analyst® Diagnostic Tool and How Can It Help Me?
SCIEX is pleased to introduce the Analyst® Diagnostic Tool! To prevent delays in obtaining the information required to adequately respond to your requests for help with software issues, we have developed the Analyst Diagnostic Tool. With this new tool, we hope to serve you better and more efficiently than ever before.
The Analyst Diagnostic Tool is an information-gathering program that is designed to provide insight on the performance of the computer's operating system as well as the Analyst software. It does this by streamlining the collection of pertinent information on your PC–including details on the SCIEX computer image, the number and type of installed software programs, the system and application event logs, any recent changes to the computer configuration, the identification of anti-virus applications, and a limited list of configuration settings from the Analyst® Software. The Analyst Diagnostic Tool has been recently piloted in North America, and version 1.0.1 will be released soon.
Installation of the Analyst Diagnostic Tool does not interfere with data acquisition or processing, but it does simplify the gathering of information needed to troubleshoot whether Analyst software or the PC are performing optimally.
The latest version of the Analyst Diagnostic Tool will soon be available to download and install from the SCIEX Software Downloads page located at: https://sciex.com/software-support/software-downloads.
We encourage you to use the Analyst Diagnostic Tool to generate a service package any time you experience an issue with Analyst software. When a service package is generated by the Analyst Diagnostic Tool, a zipped folder containing the compiled information is placed in C:\Service Packages folder. To help us serve you better, this zipped folder can be uploaded directly to your tech support case via the SciexNow portal. Tech support can then access your software information more quickly and start working on a solution to your software issue right away.
For research use only. Not for use in diagnostic procedures.
Echo and Echo MS are trademarks or registered trademarks of Labcyte, Inc. in the United States and other countries and are being used under license.