Conference Highlights
ASMS 2019 SCIEX Highlights – Atlanta, Georgia​
The 67th American Society for Mass Spectrometry (ASMS) Conference on Mass Spectrometry and Allied Topics was held in Atlanta, Georgia from June 2-6, 2019. The conference provided a platform for researchers and industry representatives to come together to present and discuss the latest advances in mass spectrometry instrumentation and technologies. Over 6,500 scientists from across the globe attended to share expertise and forge working collaborations. The program included over 3,000 papers presented as talks and posters.
SCIEX kicked off the American Society for Mass Spectrometry (ASMS) Conference with our Users Meeting in the morning and the opening of our Expo booth in the evening.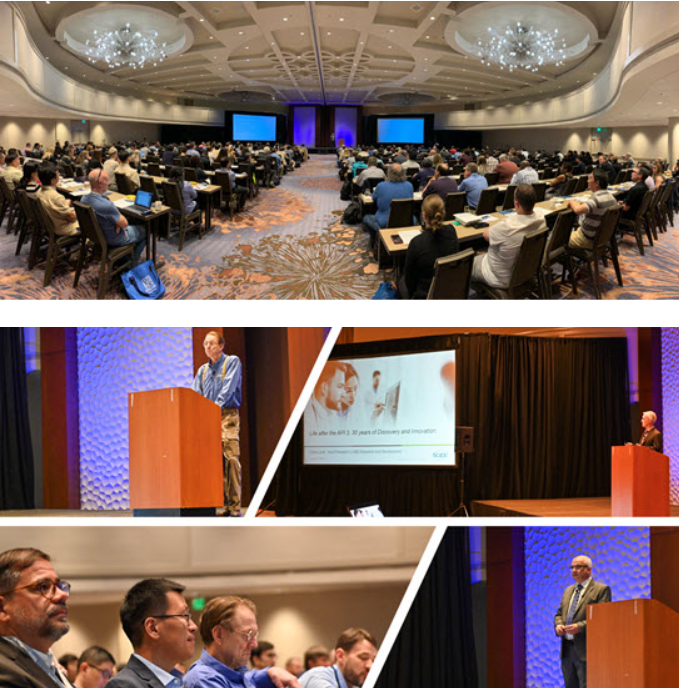 Attendees were able to participate in one of four Application sessions which included:
Advances in Pharma & Biopharma Workflows
Advances in SWATH® Acquisition for Life Science Research
Advances in Food, Environmental & Cannabis Testing Applications
Advances in Clinical Research & Forensic Toxicology Testing Applications
Learn more about the specific topics covered within each of the application sessions here.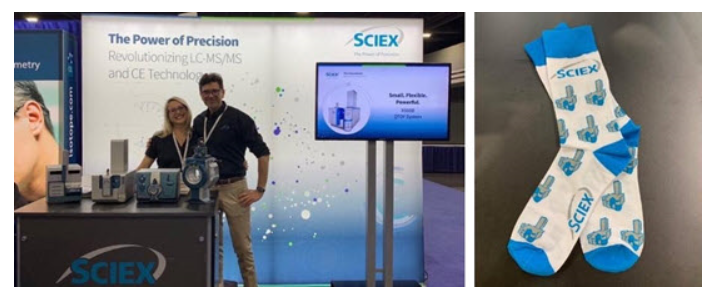 Our Expo booth featured mini versions of our X500, 6500, M5 and Turbo V Ion Source systems, which attendees could view in action by booking a demonstration in our Demo Suite.
From Monday to Thursday, there were breakfast seminars – three different sessions each morning. The seminars showcased our innovative MS and CE solutions.
The Press Conference included presentations from President Inese Lowenstein, Chris Lock, VP, LCMS, R&D, Aaron Hudson, VP/GM, SCIEX Diagnostics and Global Marketing, and guest Kevin Bateman, Scientific Associate Vice President, Merck. Three major announcements were released– two new products and the debut of a new innovative technology. Check out the press releases below to find out more:
The 30th Anniversary of API III was also announced at ASMS. Check out the full release here. It was particularly fitting that this announcement was released in Atlanta, GA, as this is where the API III was first launched and became the benchmark for LC-MS.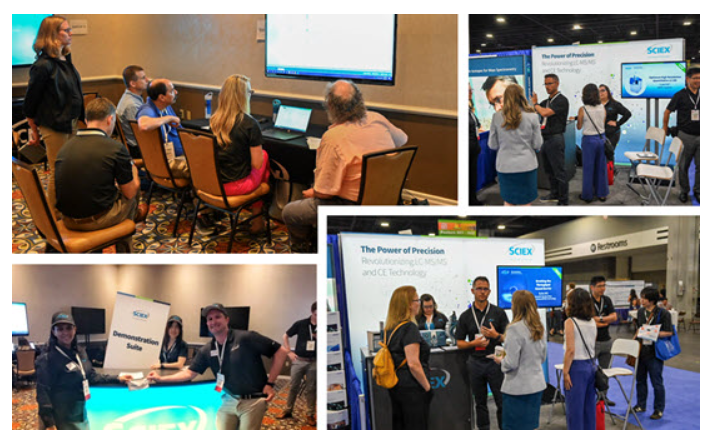 Several topics were covered in the Demo Suite including:
Introduction to Echo MS
Proteomics Applications – TripleTOF® 6600+ System
Metabolomics & Lipidomics – TripleTOF® 6600+ System
OptiFlow® Turbo V Ion Source – Peptide, small molecule, & oligonucleotide quant
Solutions for Biologics Workflows
Discover the New 5500+ LC-MS/MS System
Core Software Overview & Features – Analyst®, MultiQuant™, PeakView™, SCIEX OS Software
The SCIEX Now™ Experience – SCIEX University™, StatusScope® Remote Monitoring Service, and Lab Optimization Services
It was an exciting and inspiring week for all of us at SCIEX! If you missed ASMS this year, register here to view talks from industry experts showcasing the newest advances in MS and CE technology, workflows and research. Register and get exclusive access to more than thirty-five scientific presentations from thought leaders across all life science fields. Register NOW!
---
Customers Talk, We Listen​
TripleTOF® 6600+ LC-MS/MS System
ASMS is always an exciting time of year for us at SCIEX. It gives us an opportunity to showcase many of the new developments coming out of research and development. This year in Atlanta, we were thrilled to introduce to you the exciting new SCIEX TripleTOF® 6600+ system, the latest innovation from SCIEX incorporating high resolution QTOF technology with easy to use OptiFlow microflow and nanoflow ionization sources, and the next leap in DIA- Scanning SWATH® acquisition.
Post-ASMS we had the opportunity to sit down with Jide Okandije, Product Manager for Accurate Mass technologies, to discuss how the TripleTOF® 6600+ system came about.
How did the concept of the TripleTOF 6600+ system come about?
The TripleTOF 6600+ system has been the flagship of our high performing accurate mass product line since its launch. Throughout its lifetime, we have collaborated closely with many customers to understand the highs and lows of using the 6600 to answer their scientific questions. From these conversations, we identified three main areas to focus on for the TripleTOF 6600+ system:
Ease of use for low-flow applications
Improving throughput while maintaining high quality results
Increasing robustness
Read more about TripleTOF 6600+ system.
What technologies address the need for easy-to-low flow applications?
Through multiple conversations, it was apparent that the current solutions for enabling low applications were a challenge to operate efficiently. Customers indicated that NanoSpray III source and the Digital PicoView source required expertise in order to be successful. The objective behind the OptiFlow source was to bring low flow to all users and make it possible to go from an idle state to collection nanoflow or microflow data in minutes.
Early in the development process, we engaged our customers as part of the Early Customer Evaluation (ECE) program. They received prototype sources in their labs for a period of 6-12 months. With support from our service and application teams, the new source was installed on their instruments. Throughout the evaluation period there were regular touchpoints to review results, capture feedback and answer any questions that our collaborators had.
"The customers were open-minded and great. It was really good to work with the customers because they were really enthusiastic. They were as excited as we were to test the new product. I couldn't be happier with the quality of feedback that we received, and it really helped to confirm that we were building the right product."
For more information, please visit OptiFlow technology.
What is Scanning SWATH® Acquisition?
SWATH Acquisition is a data independent technology that was introduced in 2012. It allows for the comprehensive detection and quantitation of every detectable compound in a sample. One of the challenges with SWATH Acquisition is that you need multiple methods to create a comprehensive view of the sample. Scanning SWATH Acquisition is one method to deliver all the required information. Scanning SWATH Acquisition allows users to go faster (compatible with high speed separations), while digging deep into a sample to get comprehensive quantitative results.
The research department has worked closely with external collaborators to refine the tools and workflows. It was our pleasure to have one of our collaborators present the results of their work at the ASMS user meeting. If you weren't present at ASMS, register here to access the SCIEX Online Summit 2019, view talks from industry experts showcasing the newest advances in MS and CE technology, workflows and research.
Scanning SWATH Acquisition: Proteomics Done Fast – and What To Do With It – Christoph Messner, Postdoctoral Research Fellow, The Francis Crick Institute, United Kingdom
In the meanwhile, if you are interested in learning more about Scanning SWATH, you can refer to these presentations
Jide Okandije
Product Manager for Accurate Mass Technologies at SCIEX
---
Feature Article
Software Licensing Simplified
"At the heart of the Subscription Economy is the idea that customers are happier subscribing to the outcomes they want, when they want them, rather than purchasing a product with the burden of ownership." *
You may have noticed that more and more software is moving away from being a "one-time purchase" and shifting to a subscription-based service model instead. Businesses are entering a phase where, through subscriptions, cost-effective access to virtually unlimited resources is the new reality. That is, businesses don't have to own the resources they need to enable their business, but rather can pay for efficient access to only the resources they need when they need them.
Gartner reported that, "By 2020, more than 80% of software vendors will change their business model from traditional license and maintenance to subscription."
To ensure you have access to multiple software licensing options that are rapidly becoming a standard in the software industry, we introduce subscription licensing to fit your various software requirements. This new SCIEX software subscription offering will allow us to provide you with the licensing flexibility that many SCIEX customers have come to expect in other business areas.
Historically, SCIEX software has been licensed to our customers via a perpetual license approach. You paid a license fee for the right to use the software "forever". Upgrades as they had become available and software support options were an add-on expenditure.
Unlike perpetual licenses, SCIEX software subscriptions are designed to expire after a predefined period. For example, if you purchase a 1-year SCIEX OS-MQ subscription, that software will automatically expire one year later. Upgrades as released and priority support are included in the licensing fee.
As a business, consider making a move from the traditional "buy-own" approach to the new era of "subscribe-rent" as it offers numerous advantages to you. Here are some of the benefits for the laboratory.
Affordability: Subscriptions have lower up-front costs – annual subscription fees are typically 40% of a perpetual license fee, allowing you to get more software for less money
Flexibility and Scalability: Subscription-based software comes with flexible payment options that include monthly and annual payment plans. Your laboratory can adjust the number of licenses needed on the license renewal date – you only pay for the software you need
Support and Upgrades: Software upgrades and support services are included in a subscription license. Your lab is always supported and entitled to receive the latest updates and upgrades as they become available
SCIEX is here to help you make the switch. Contact us with any questions that you may have about the potential benefits of subscription licensing for lab and learn more about our product offerings and special discounted pricing that is available.
Additional Resources of Interest to You
Improve Operational Efficiencies – Flexible Licensing, Upgrade and Support Options
---
Survey Results​
Importance of Quality Attribute
Reaching out in a recent survey, we asked you to rank the importance of various quality attributes when considering SCIEX products or services. The top attributes that respondents associate with the word quality are performance and reliability.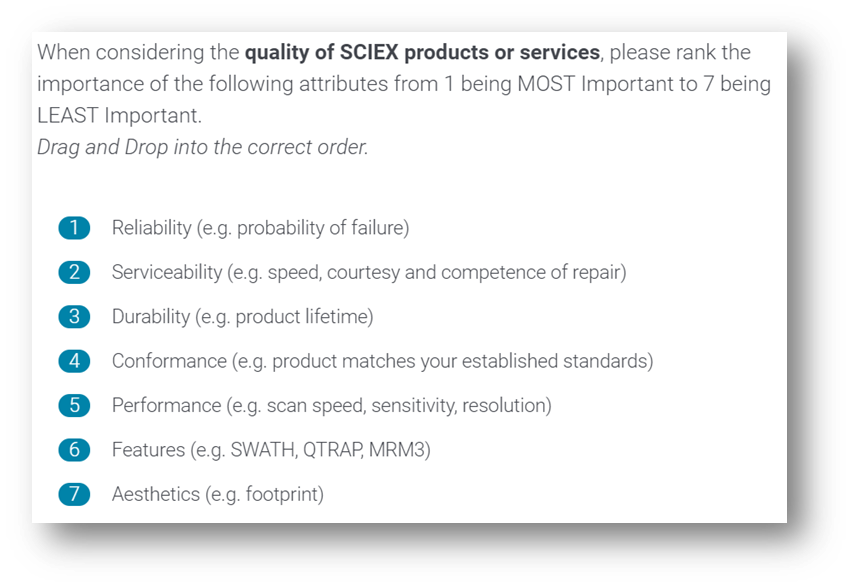 ---
Tips and Tricks​
Useful features and functionalities available on SCIEX Now™ online
SCIEX Now Online was developed to optimize our customers' experience with SCIEX, allowing researchers to check and manage everything online. Integrated tools like a Knowledge Base search and multiple ways to contact us enable customers to find the answers they need for themselves, or with one click, a SCIEX expert is ready to assist them.
With continuous improvement being part of our culture, we drive for enhancements and improvements in the way we interact and serve our customers. Throughout a customer's journey with us, during many touchpoints, we ask about their experience with SCIEX and we gather feedback to continuously improve. With recent results coming in from these touchpoints, from interviews with SCIEX Now Super-Users, to SCIEX customer interviews during the Berliner Symposium, and at the Demo Suite during ASMS, we recognized that many of our users were not fully aware of all the useful features and functionalities offered on SCIEX Now Online.
A big THANK YOU to our users for providing us with regular feedback, enabling us to launch the SCIEX Now Feature Tip. When a user is logged into the portal and navigates to a support page on SCIEX.com, a one-time pop-up appears in the portal with a couple of calls to action to maximize the value of these tools in the customers day-to-day work.
More than 4000 users viewed the pop-up within six weeks of launch. A high volume of users clicked on the "More Information" link, launching the "Show Me" tutorial providing an overview of the instruments page features on SCIEX Now. Additionally, many of our users clicked on the "Visit your instruments page…" link, taking them directly to their instruments page. In just a short span of time since launch, 11% of our users engaged in one of the two desired actions from the pop-up. The response rate was excellent and indicated that the method was effective and well received by our registered users.
Due to the overall success and promising results, we plan to continue using this communicate method to introduce other SCIEX Now Online features to our users. For more information, visit SCIEX Now Online at sciex.com/support
Manage your instruments
Submit and manage support cases, track status and history
Access online training courses and Knowledge Base articles
Manage software licenses linked to your registered instruments
View and report critical instrument statistics when connected to StatusScope® Remote Monitoring
Be a part of the SCIEX community by submitting questions and comments
Receive notifications from SCIEX with content based on your preferences