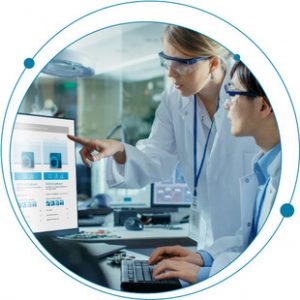 Are you confused by software licensing? Do you want to know the difference between a subscription and a perpetual license?  In this blog, we compare both options and explain the value of each choice for your laboratory.
Years ago, the perpetual license model was the only way you could buy business software. Today, subscription models are becoming more prevalent, and by 2020, according to Gartner (a leading research and advisory company), will account for over 80% of license offerings.
What Is a Perpetual Software License?
A perpetual license is a traditional model used to purchase the software. You pay for your software license up front and have the right to use it indefinitely. On top of the license fee, you have the option to pay for maintenance as an annually renewable software support plan that provides upgrades and comprehensive support for your SCIEX Software solutions.
What Is a Subscription-Based Software License?
The subscription-based software can be purchased with monthly or annual license periods. The subscription fee is paid up front and entitles you to use the software for a length of time. Towards the end of the license period, you have the opportunity to modify the number of licenses and to renew the software for another term. The subscription payment not only includes the software licenses but also access to support services and new versions of the software when they are released.
The Shift From Perpetual to Subscription Software Licenses
The shift towards subscriptions has been fueled by the adoption of cloud computing and Software as a Service (SaaS) solutions. Subscription replaces the capital cost of buying software licenses with lower, ongoing subscription payments, which can make the software more affordable.
According to Microsoft, "The benefits of the subscription model are huge. Subscribers are always up to date. They get the latest and most complete applications and can use subscriptions across the multitude of devices." A subscription can mean minimal upfront risk and minimum capital investment.
How Can You Decide Which Licensing Model Is Right for You?
Just like when you consider whether to buy or lease a car, it is important to look at both perpetual and subscription licensing options to determine which approach is the most appropriate for your situation.
Compatibility: Although perpetual licenses can be used indefinitely, the software eventually becomes obsolete due to hardware and operating system changes. You must make an effort to periodically upgrade your product to ensure hardware and software compatibility.

If you continue to use a product that is no longer updated, patches and hotfixes are no longer provided. This could expose you to additional risks, including harmful viruses, spyware, and other malicious software that can steal or damage your data. Maintaining perpetually licensed software is very important.

With a subscription model, upgrades providing new features and functionality are included in the monthly/yearly subscription fee, which helps to eliminate compatibility or obsolescence issues.

Both perpetual and subscription licensing models provide annual support options to keep you on the most current version of the software. The perpetual license approach, however, requires a larger upfront license fee.
Scalability: Because perpetual licenses do not expire, the purchased software is still available when your laboratory requirements change over time. If there are staff changes, the software can be transferred to a new person on the team. If your team grows, you can purchase additional licenses. However, if the size of the team is reduced, or if projects requiring the software end, perpetual licenses can remain idle, which is not the best use of the initial software investment.

The flexibility of the subscription model eliminates the problem of idle licenses. The number of licenses can be reduced at renewal, if necessary. You can match license count with the demand to pay only for what you use.
Cost: For cost comparison, the total cost of ownership for a five-year subscription is the same as an upfront perpetual license and five years of purchased support. The subscription model, however, requires five annual payments that are only 40% of the cost of the perpetual license. There is no large initial payment for subscription, so the start-up costs are reduced. These annual fees can also come from the operations budget (OpEx) rather than the capital budget (CapEx).

On the other hand, perpetual licenses are owned indefinitely. If the money is available for the upfront payment, the software can be purchased and used without further interaction with SCIEX.
Which Is Right for You?
If your organization is debating which licensing model to choose, the right answer is the one that is best for your laboratory business. Here are some key considerations:
Ownership – Is it important for you to own your licenses?
Budget access/Cash flow – Do you have cash available to fund the software purchase up front?
New releases – Is it important for you to have the latest technology?
Flexibility – Do you need to keep up with changing business priorities that require modifying software licenses based on need?
Support – Is the peace of mind from having priority access to technical support a key driver for your lab?
Have More Questions About Subscription?
We're here to help. Provide us with your information and a SCIEX representative will contact you to answer your questions about the potential benefits of the subscription model for your lab. They can also tell you more about our special discounted pricing for laboratories making the move from perpetual to subscription licensing.