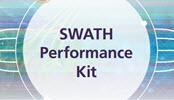 Standards, protocols, and templates for generating your best quantitative proteomics data 
If you are just starting out as a proteomics researcher using mass spectrometry, the workflow can seem particularly daunting. How do you know if your system is set up correctly? How do you know if you are getting the best data possible? And if you are a seasoned proteomics researcher, how do you know if your system is still running at peak performance from one study to the next?
To get consistently high quality, reproducible quantitative proteomics data, proper controls are required. This is particularly important as the proteomics field begins to embrace larger and larger studies where the integrity of the entire workflow must be ensured over many samples, and often across multiple users, and long periods of time. Maintaining this performance with consistency and accuracy is critical for reliable results.
Learn more about SWATH acquisition on our website and in Community discussions.
The SWATH acquisition performance kit was developed especially to address these needs so that you can assess the performance of your TripleTOF system for IDA and SWATH acquisition proteomics workflows. The kit contains four key components:
A pooled mixture of 20 synthetic peptides (PepCalMix)
A complex digested cell lysate
A detailed protocol for running each test
A software template for processing and tracking SWATH data quality
When using the kit components, there are four tests that you can run to help optimize the performance of your system and assess the performance of the entire workflow on an ongoing basis.
Set-up and suitability rests
Users may typically start with the PepCalMix Infusion Test. Because the PepCalMix contains peptides that cover a wide range of masses and retention times, it is ideal for use as an infusion standard for checking MS performance and optimizing source positioning and parameters. Following this procedure, the same standard can be used for the PepCalMix LC-MS System Suitability Test. Here, users can check that the LC-MS system is in basic working order with good LC separation and MS sensitivity. The PepCalMix can also be purchased separately for routine mass calibration or to be used as retention time calibration peptides.
IDA and SWATH acquisition rests
Now that the LC-MS system is set-up properly and optimized, it's time to assess the performance using more complex standards and experiments. These tests were designed to more closely mimic the types of samples and experiments that would be performed for biological studies. For example, using the Cell Lysate SWATH Acquisition QC Test, users can assess the performance of SWATH Acquisition. To ensure fast data processing, a freely downloadable small ion library was created especially for these tests to quickly assess system performance. (Note: for biological studies, a larger library is recommended). All of the SWATH data can be processed and tracked using the SWATH Replicates Analysis template. Users can also use the Cell Lysate IDA QC Test to assess protein identification performance using information dependent acquisition (IDA). Using ProteinPilot™ Software, the numbers of identified peptides and proteins can be determined to assess IDA performance. These tests are a great way to generate baseline performance specifications for your entire workflow—whether using IDA or SWATH Acquisition.
For all of the tests, a detailed protocol walks you through each step so that you can be assured you are setting up and optimizing your system correctly and generating the best data possible. Additionally, on-line troubleshooting tips make it easy to identify and fix the most common issues encountered when running LC-MS proteomics experiments.
The protocol contains step-by-step instructions for both nanoflow and microflow chromatography in addition to a parts list to transition from nanoflow to microflow. As studies become larger with more samples, microflow chromatography can provide better robustness and throughput than nanoflow chromatography for keeping up with the demands of higher sample turnover. The OptiFlow source is available on some SCIEX platforms for nanoflow and microflow LC. Or the higher flow Turbo V, IonDrive Turbo V, or DuoSpray ion source can be used for microflow chromatography and instructions for optimizing it for this flow regime using the PepCalMix are available. 
To make the entire process as seamless as possible, all of the data can be processed and tracked using the provided Excel sheets. These performance trackers contain the performance guidelines that are used to assess the performance status of each system. When used over time, the system can be monitored continually to ensure consistent data quality.
And that's it! Everything you need is in one kit. With the SWATH Acquisition Performance Kit, you can set-up and optimize each system component and then assess the performance of your entire SWATH workflow using standards that mimic real-world samples.
Set-up and optimize each system component
Quickly assess performance of your entire SWATH workflow
Ensure consistent performance of your instrument over time
Easily transition your methods between flow rates